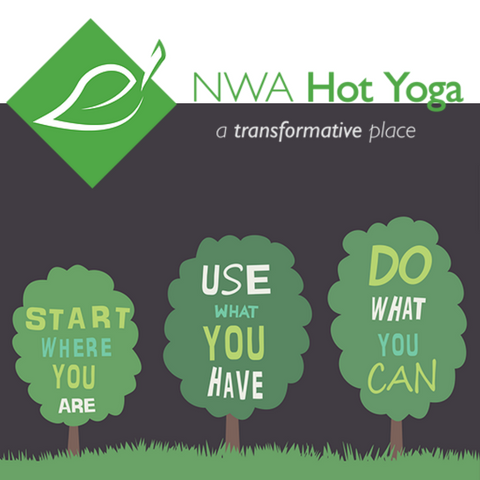 NWA Hot Yoga features eight different styles of yoga, 30+ weekly classes, seven days per week, all times during the day, 364 days per year (minus Christmas Day) 1,276 square feet studio space excluding front and back lobby areas.
"Pranayama Ujjayi" breath (also known as nose breathing) is taught and strongly emphasized in every class. Breath is life! We teach our clients how to use more of their lung capacity thus lower heart rates, decrease blood pressure, reducing stress & anxiety through the practice of this ujjayi breath! We teach connecting the movement with your breath, the meaning of vinyasa.
Baptiste 11-series sequence is the base of all of our flows.
We believe in a Higher Power based practice. We implore a 12-step approach to Higher Power. Our clients define their Higher Power for themselves. No Buddha statues, mandala, animal symbols of various religions, and no visuals or props of any religion are featured anywhere inside the studio. This creates an open and welcoming environment to all people of religious backgrounds and
beliefs.
Our Mission: Providing a welcoming community atmosphere of acceptance, inclusion, & connectedness through yoga for everybody.
Achieved by cultivating personal relationships with every client by imploring a welcoming smile and a friendly greeting upon entering the studio, coupled with a non-judgmental attitude creating a very unique, warm and friendly environment – a safe place for transformation. We pride ourselves on remembering your name and something about you or your practice. This is achieved with the leadership of the owner, our staff/teachers, and most importantly with the unsolicited or undirected assistance from our community. Expect during your first visits before or after a class a yogi on a neighboring mat to introduce themselves and offer a third-party synopsis opinion of the studio, various classes and diverse teachers. The lyrics from the famous Eagles song Hotel California come to mind and are relevant, "you can check-in but you can never leave."
This was mission was shaped by Scott Pitts' experience attending yoga studios throughout Southern California during a challenging time in his life. Scott is the owner and founder of NWA Hot Yoga. His abbreviated story goes as follows:
"Picture it: Santa Monica, California, 2008" (referencing Sophia Patrello from the Golden Girls.) Scott was advised from an orthopedic surgeon, "knee replacements or hot yoga." Scott decided to check out this thing called hot yoga and forego knee replacements; at least for the short-term. Scott had only practiced the runner's version of yoga in the past - the obligatory runner's lunge and quad stretch for 20 seconds before or after a run. Due in large part to having participated in numerous marathons and triathlons (including three ironman events) during his 30's, his knees required mandatory full replacements. Scott had gained 60 pounds due to severe isolation, depression, and inactivity caused by lack of being able to use and abuse his body in the same way. Scott bravely entered a trendy Southern California studio. He entered as the "fat", talkative, very loud heavy breather guy in the back of the studio. He felt alone and noticed that no one else came close to looking like his body type or gender. He also noticed no one remembered his name or seemed to care to know anything about him or show any interest in his story. He didn't even feel like they wanted to help him on his journey in any way.
The atmosphere was very hot, the music loud, and the studio jam-packed with other people. He was kicked in the face several times and surrounded by beautiful, fit, and extremely flexible women who could do all kinds of poses and crazy circus-like feats with their bodies. Scott felt intimidated and more deflated upon every visit, but was determined to NOT give up. He was not going to look towards knee replacements just yet. Eventually, after three consistent years of hot yoga, Scott was 60 pounds lighter and his knees were in the best condition of his life. He was more flexible and stronger than before. He became self-inspired to become a registered yoga teacher with the desire, passion and deep commitment to teach others what he had learned! He has since dedicated himself to create a new experience for countless others.
Scott eventually returned to his native & beloved NWA and began practicing in a local hot yoga studio. To his surprise and disappointment, he felt the similar judgement & intimidation as before. Nonetheless, he continued his journey and made friends because of his outgoing personality.
As a 20-year marketing executive, he was intrigued yet perplexed. He began to research yoga studios, and discovered this exclusive, judgmental, intimidating mentality existed in a large number of studios. His research also indicated that well over 70% of people in his study felt the same way. Many individuals also had major misconceptions as to what yoga is. Shortly after getting his second yoga teacher certification, Scott began working with a local hormone doctor who asked him to work with her clients and teach yoga. He discovered yoga could help them too! These were people of all ages, but primarily 40-72 years of age with diverse backgrounds and body types, mostly the average middle-aged, non-flexible, inactive person (unfortunately the major of our country) and with multiple chronic physical issues.
During the first one-hour session, participants discovered the joy of movement and the power of connecting movements with the breath. All participants developed a noticeable liking for the activity and for the like-minded wellness community. The clients started noticing major improvements in their health and well-being through a twice per week consistent yoga practice
Basic quality of life improvements such as getting up and down off the floor (starting in a chair and using a wall); walking for hours with grandkids on annual outdoor excursions to theme parks; quitting smoking; climbing ladders; and balancing hormones levels with yoga. (Measured with regular blood screenings). Over 1,000 people had experienced various levels of success throughout this life-changing transformative two-year period of time. With the aforementioned marketing research of the high importance of an open and accepting environment, especially important for older demographic coupled and with the hands-on learning's' with clients of the very wise doctor -the birth of the NWA Hot Yoga Brand came into existence on May 15, 2015!